<! end left-module > <! end nav-bar >
Club Archives
Kennesaw Mountain Trail Club (KMTC) Archives and History

Introduction: This is the ongoing history of trail maintenance volunteerism at Kennesaw Mountain National Battlefield Park. It is of necessity a summary of many events involving many fine people. The record is fully documented most of the time, but, there are gaps. In 2004 a hard drive crash resulted in the loss of much information. Since the establishment of the Earthworks Club Newsletter in 2007 the detailed history became available on the Club web site.


2002

Spring
Two Boy Scout leaders, Richard Angeli and Fred Feltmann, used the trail over Little Kennesaw Mountain to train for a backpacking trip. The trail was in such bad shape that they decided to volunteer to spend some time fixing that trail. From this idea the trail club was born.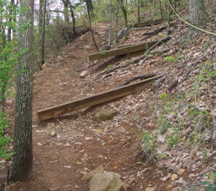 Condition of Little Kennesaw Mountain trail in 2002
Summer Richard Angeli, who was also a member of the Georgia Appalachian Trail Club (GATC), spent the summer working with NPS Maintenance Supervisor Marion Harris and other mentors from GATC planning and organizing the volunteer trail workers.


August and September Public organizational meetings were held at the park visitor center that resulted in the formation of "KEMOTrail Corps, Inc". The participants in that second meeting thought they were being clever in choosing the name: "KEMO" for the NPS designation for the park, "Trail" because trails were to be the focus of activity, and "Corps" to capture the military history aspect of the park. The only problem was most people thought "KEMOTrail" had something to do with "chemotherapy". It took a couple of years to figure that out and start using the more generic designation "Kennesaw Mountain Trail Club".


October 19th. The first organized trail club activity was a trash pick-up day when 25 volunteers picked up 40 bags of trash.


November 9th. The first trail work day was held. More than 60 people of all ages turned out to work on the trail at the top of Kennesaw Mountain.

Web site was established.

Links to archival documents
2003

February Planning began for a safe and scenic new trail segment on Little Kennesaw Mountain. Construction began in October, 2003 and was completed in November, 2004. Half a mile of new trail was added.


A hardened causeway for horses was built to help ford John Ward Creek at Barfield Bottom.


Richard Angeli was KEMO volunteer of the year.


Links to archival documents
2004

Leah Urban was KEMO volunteer of the year.


2005

JanuaryKMTC received IRA 501(c) (3) not for profit status from the IRS. Saddle Up Cobb provided financial assistance in filing our application.


June 11, 2005First National Trails Day at the Park was organized..


JulyHurricane Dennis blew through Georgia as a major tropical storm event. Flooding from this storm destroyed the old wooden boardwalk and foot bridge that crossed John Ward Creek at Barfield Bottoms. Links to archival documents


2006

January
First club NPS Challenge Grant for $30,000 was awarded. These funds were used to purchase a kit equestrian-capable bridge for John Ward Creek at Barfield Bottoms. The club match was 1,750 volunteer hours to install concrete footings, assemble the bridge and re-grade the trail. The bridge was opened August, 2007.
Links to archival documents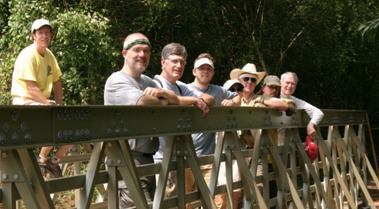 Volunteers on the new Barfield Bottom Bridge
2007

The club contributed many hours to the development of a Strategic Trail Plan for the park that is still in the NPS approval process.


Randall Bailey was KEMO volunteer of the year.


September. First issue of the Club's newsletter: Earthworks.


Along the way, the club has trained and qualified many crew leaders to lead volunteer work parties, and to serve as advisors for youth service projects such as BSA Eagle Scout Leadership Projects.


2008

March. Presentation to Marietta Kiwanis by Richard Angeli.


New trail on lower segment of Big Kennesaw was opened.


May. First Garlic Mustard Pull project of this invasive species.


Ed Holsworth was KEMO volunteer of the year.
Links to archival documents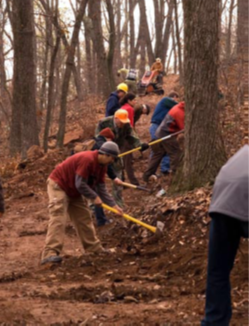 Workday on the new trail section
2009

Trail Club signs Cooperative agreement with NPS that defines mutual working relationships.


Major trail work on Kennesaw Mountain, Little Kennesaw Mountain and the saddle in between.

Links to archival documents
2010

A Trail Ambassador Program, headed up by Anne and David Strand, has trained and deployed over 20 Trail Ambassadors to greet and assist visitors and assisted the NPS with observing safety, maintenance, and enforcement issues on the trails.


Anne and David Strand were KEMO volunteers of the year.


First National Public Lands Day supported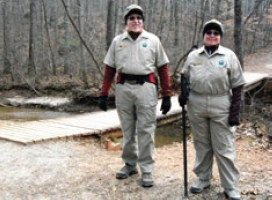 Trail Ambassadors on patrol
2011

September. Supported Field of Flags with 228 volunteer hours.


First Earth Day was supported


First National Parks Day was supported


First "Master Ranger Corps" member was Larry Shogren.


First horse patrol.


Built new web site.


Rebuilt area around Illinois Monument


Removed over five acres of bamboo in the south part of the Park


See Earthworks October, 2011 for General Membership meeting details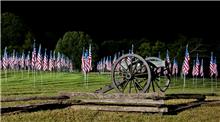 Field of Flags
2012

First Winter Trails day supported with Trail Club partner REI


Teens, Trenches and Trails: This program, which was sponsored by a grant from the National Parks Foundation and Coca Cola, introduced high school kids to the healthy benefits of hiking and trail work. Students from South Cobb High School under the direction of Andy Cole, teacher and member of Kennesaw Mountain Historical Association, were involved in this program


First Fleet Foot Hikes. Conducted hikes for visitors.


Celebrated the 10th Anniversary of the Trail Club


See October, 2012 Earthworks for General Membership meeting details.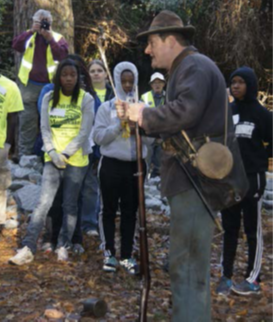 Teens, Trenches and Trails
2013

Club continued to successfully obtain grants from NPS, REI and National Park Foundation.


BSA Eagle candidates completed eight projects in the park totaling 1,026 hours of community service.


17 major trail projects were completed to include re-route and construction of bridges on the Assault Trail.


First Park History talks to 4 outside groups were conducted.


First Staff Rides (conducted tours for training military units) for 3 units were conducted.


Over 40 Trail Ambassadors provided 7,500 hours of service.


Implemented successful Social Media outreach.


Created and finalized fund raising agreements between NPS & KMTC .


Established KMTC Fundraising Committee to support 150th Anniversary of the Battle of Kennesaw Mountain. June 2014.


Drafted Trail Management Plan for review by NPS staff.


Implemented on-line reporting of Trail Club volunteer hours.


Links to archival documents: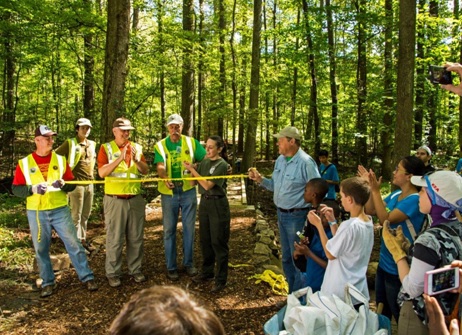 Opening of Assault Trail Bridge
2014
The year was dominated by preparation and operation of the Sesquicentennial of the Civil War.
See the August 2014 Earthworks for complete event coverage:
Anne Strand was NPS KEMO Volunteer of the year
Construction of the new 24 Gun Trail
Physical preparation of the Park
Hours donated during the event
Photos
Fund raising efforts
Scott Mackay our KMTC President summarized the accomplishment well
"The 150th is past us now. It was the greatest event we ever participated in. What made it special for me was to see so many faces I already knew out there helping to make those four days the best ever. To see hundreds of visitors taking guided hikes on the trails that our work helped to create and maintain was just amazing. The park was definitely looking its best. Many visitors who had not been there recently were quick to point out the new cannon center place and landscaping around the visitors Center. And the Civilian Camp people were quite pleased with their campsite along the trail in the woods. Then there were the luminaries! They made a lasting impression on everyone who attended the re- dedication ceremony at the Illinois monument.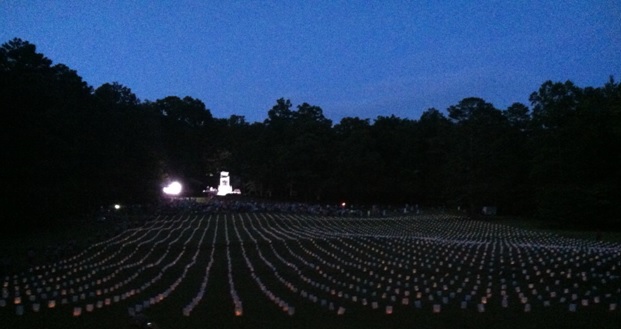 This event took several years to plan and implement. Many of us worked long hours during the months leading up to the big date and continued even longer hours during those 4 days putting in the last minute touches that were needed and supporting quietly from behind to keep everything running smoothly. Even the re-enactors and historians had a great time. One historian I talked with was ecstatic with the hiking ease as he led a real time hike along the assault trail. Several reenactors told me that shooting cannons at the Sherman's battery and camping in the nearby field for the first time in 150 years was the greatest experience in their lives. I want to thank you each for coming out and being a part of the 150th. I look forward to seeing you again as we get back to working on the trails and keeping up with the challenges that our Georgia storms bring to us."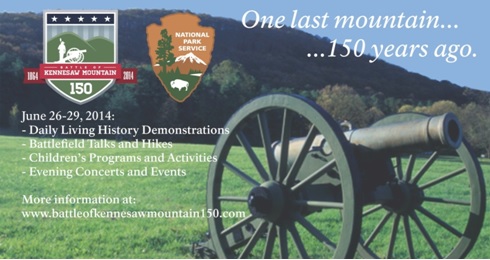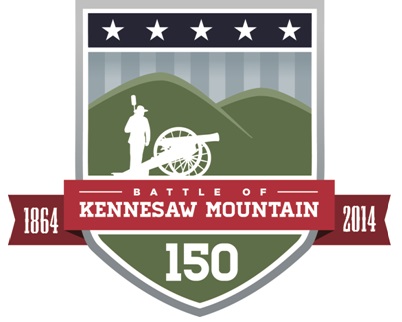 2015
Minutes of 19 September 2015 General Meeting
1) Agenda, opening chaired by Scott Mackay, President
2) Hartzog Award comments by Amanda Corman and display of award; Framed picture of KMTC members in Washington, D.C. with Johnny Isakson autograph presented to Amanda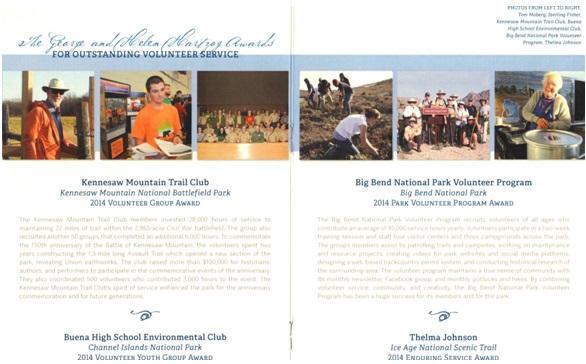 Hartzog Program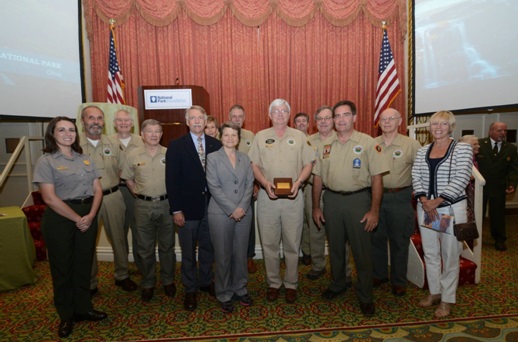 KMTC Group accepting Hartzog Award
3)
Slate of Officers
- all officers nominated by the Nominating committee were elected to office by acclimation; Doug Tasse accepts nomination as President and Chairs remainder of the meeting
4)
Trail work Report
given by Doug Tasse
5)
Scout Report
sent by Donald Olds
6)
Invasive Plants Report
- sent by Danny Leigh
7)
Treasurer's Report
- given by Tom Okerberg
8)
Historian's report
- provided by Jay Haney and presented by Anne Strand
9)
Program Planning Report
- provided by Lucy Denzin and presented by Anne Strand
10)
Trail Ambassador Report
- provided by Cam Graham and presented by David Strand
11)
Membership Report
- given by Sherry Shogren
2016
Minutes of 1 October 2016 General Meeting
1) Agenda, chaired by Doug Tasse, President
2)
Slate of Officers
-all officers nominated by the Nominating committee were elected to office by acclimation. New officers are Gloria Downey, Secretary; Janie Brier, Trail Ambassador Director and Rusty Bradley, Historian.
3)
Trail work Report
-prepared by Ken Hale and given by Doug Tasse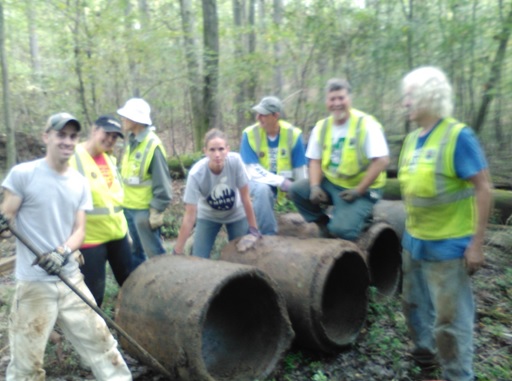 Removing the culvert at the new Kolb Farm Trail site
4)
Scout Report
-given by Donald Olds
5)
Invasive Plants Report
-prepared by Danny Leigh and given by Doug Tasse
6)
Treasurer's Report
-given by Tom Okerberg
7)
Historian's report
-given by Jay Haney
8) Program Planning Report-given by Lucy Denzin
NPS Director Jonathan Jarvis attends Junior Ranger Day
9)
Trail Ambassador Report
-prepared by Cam Graham given by Jay Haney
10) Technology Report-given by Jerry Givan
11)
Membership Report
-given by Sherry Shogren