<! defined in styles border removed 200x420px block remains > <! img src="images/cafe-press.jpg" alt=" cafe-press" width="200" style="position:relative;" />
<! end cafe-press > <! end cafe-press-button >
<! end left-module > <! end nav-bar >



* Jump to upcoming Work Day *



Kennesaw Mountain National Battlefield Park Upcoming Interpretive Programs

Kennesaw Mountain Trail Club has been announced as the 2014
Group Southeast Region Winner for the George and Helen Hartzog Awards for Outstanding Volunteer Service
as well as the
National Winner of the George and Helen Hartzog Awards for Outstanding Volunteer Service
at Kennesaw Mountain National Battlefield Park
National Park Service Facebook announcement
and of course it has now been posted to the National Park Service website
National Park Service Hartzog Award page
If you make purchases at Amazon, you can help support the Trail Club! When making purchases at Amazon, simply log into www.amazon.com/smile! If this is your first time logging in, you'll be asked to designate a charity. Simply designate the Kennesaw Mountain Trail Club(Search on Kemotrail Corps Inc ), and each time you make a purchase via Amazon.com/smile, a portion of your purchase will be donated to the Trail Club!
<! /div>
Trail work days open to the public
Come make New Friends!
Work days are a wonderful way to get outside and enjoy nature while helping preserve our national park for future visitors. We work closely with the Park Service and assist park staff by providing critically needed volunteer power to build new trails and maintain over 20 miles of existing trails. If you click on the Volunteering tab at the left and then the Why Volunteer tab, you can get a good idea of what we do and what we have accomplished.
Please note that we do not charge any membership dues. We an all volunteer organization and get our funding through donations, matching funds, and grants (we are a 501(c)(3) qualified non-profit so your donation is tax deductible).

There are no age restrictions. However, youth under the age of 18 must have parental permission and appropriate adult leadership.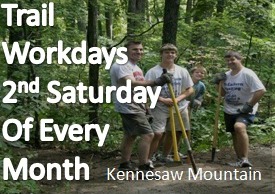 Work days will be canceled under the following conditions:
Rain is forecast for the day.
Heavy rain the night before.
Weather too cold for safety.
If we must cancel a work day, a notice will be posted on this website



The Workday, Saturday, January 13 is canceled, the temp is forecast to be at 32 with windchill at 22-23 and 16mph winds during the work hours.

---
The
Wilderness Stewardship Division
has partnered with
Harpers Ferry Center
and film students at
American University
to develop a webisode series called
America's Wilderness
. The collection of 3-5 minute webisodes take place in different wilderness parks across the country, featuring stories that capture an array of experiences shared between people and wilderness, from first time overnight camping trips to trail running and photography. These stories will help set the stage for
National Park Service
activities celebrating the upcoming
50th Anniversary of the Wilderness Act in 2014
. Click here to see the America's Wilderness series
http://www.youtube.com/user/NPSWilderness
---
Park Weather
---
---